我的博文
首次报道:基于深度学习的鼻咽癌计算机辅助病理诊断
2020-05-01 08:55 阅读(135) 评论(0) 分类:专业
介绍:
基于深度学习的鼻咽癌计算机辅助病理诊断(Computer-Aided Pathological Diagnosis of Nasopharyngeal Carcinoma Based on Deep Learning)于2020年4月29日在老牌病理杂志AM J Pathology上发表。该研究论文由深圳市第三人民医院(南方科技大学第二附属医院)罗伟仁团队联合中国科学院深圳先进技术研究院共同完成。这是国际上首次报道深度学习在鼻咽癌病理诊断中的临床应用。
详见: https://doi.org/10.1016/j.ajpath.2020.04.008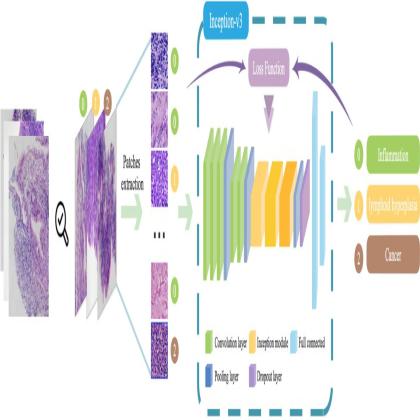 Overview of the deep learning method used in this study for diagnosis of nasopharyngeal carcinoma. First, WSIs including inflammation, lymphoid hyperplasia and nasopharyngeal carcinoma were annotated by pathologists with 0, 1, or 2. These WSIs were separated into 3 datasets with appropriate proportions: training set, validation set and testing set. Second, patches were cut from annotated WSIs, each with a size of 229x229x3 (height x width x channel) and given the same label as the parent WSI. The pre-trained deep learning model (Inception-v3) was trained with patches from the training set multiple times to obtain a finely tuned model. The full connection layer of Inception-v3 outputs the final classification results. The parameters were constantly fine-tuned by feedback from the loss function to improve network performance. The results are finally classified into the three categories
A comparison of the accuracy of the model and the pathologists. The areas indicate the quality of their diagnoses. In order of size their respective areas are as follows: senior pathologist > the model > intermediate pathologist > junior pathologist.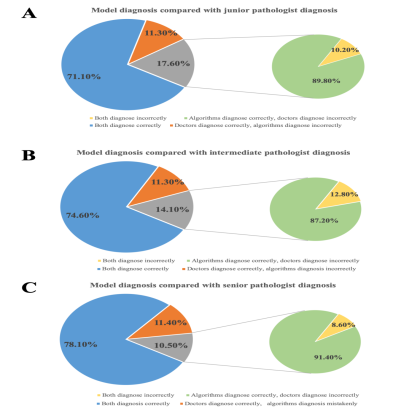 Comparison of the model's and pathologists' percentages of correct and incorrect diagnoses. (A) The comparison between the model and the junior pathologist. (B) The comparison between the model and the intermediate pathologist. (C) The comparison between the model and the senior pathologist. According to the results, the percentage of incorrect diagnosis falls significantly.


本文允许在互联网范围内转载,使用时请注明作者姓名、作品名称及作品来源。

我要评论